37. Disable simple file sharing (XP Professional only)
Windows XP uses a new streamlined method of sharing files, called 'simple file sharing,' by default. This method is similar to the system used with Windows 9x/ME in that it does not check user credentials before allowing access to the share. The only option you can specify is whether remote users have the ability to change the share by adding editing or deleting files.
If you desire more security for your shares, you can revert to the higher security method of sharing files used in Windows 2000. This allows you to specify whether individual users on your system are allowed to access each share, and whether they can change the shared data or only read and copy it.
To implement this: Go to 'my computer.' Select 'tools' from the menu and click 'folder options.' Choose the 'view' tab. Find and uncheck the 'use simple file sharing' box. Click 'ok'.
38. Using the Windows XP firewall
All versions of Windows XP come with built-in software firewalls. The XP firewall software offers better-than-adequate protection against most common forms of Internet attacks and eavesdropping, so it's a good idea to enable it. The exception to this is if you are using a device that contains a hardware firewall, such as a home router. The firewall is disabled by default in Windows XP, unless you have installed The Service Pack 2 update released in August of 2004.

To enable and configure the firewall: Go to start\control panel\network connections and right click on your Internet connection, or the network adaptor you use to receive the Internet from another computer and hit 'properties.'

Go to the 'advanced' tab and place a checkmark in the 'Internet connection firewall' box and click 'ok.' Your computer is now protected.

If you have installed Service Pack 2 for Windows XP on your system, the firewall should be enabled by default. To make sure of this, go to 'start/control panel/windows firewall' and ensure that the firewall is set to the 'on (recommended)' position. For more information on how Service Pack 2 changes the functionality of Windows XP, see this article.

If you aren't yet using WinXP SP2, we have more information on configuring the Windows XP firewall, and firewalls in general right here.

39. Turn autocomplete off in IE

By default, Windows XP and Internet Explorer 6 will examine what you are typing in the address bar and pop up a list of similar entries you entered recently. It also stores entries you have made on web documents and forms, including usernames and passwords. While this can help speed up your web surfing experience, it can also potentially compromise your privacy if multiple people are using the same user account on your system. Fortunately, autocomplete can be easily disabled through the IE options menu.

To do this: From Internet Explorer, go to the Tools menu, then select 'options.' Choose the 'content' tab, then click the 'autocomplete' button.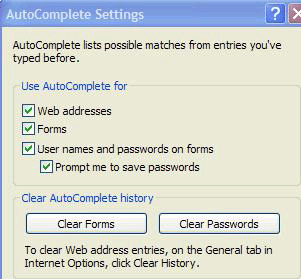 Disable the various options as you see fit. You can also clear autocomplete's memory cache for web forms and passwords from this window.