53. Create a screensaver from your pictures
If you have a collection of photographs on your computer from a digital camera or scanner and you are looking for a more creative way to use them than simply putting them as your desktop background, Windows XP let's you automatically put these into a slideshow that functions as a screensaver.
Even better, XP will format the pictures automatically to fit the screen, so you don't have to mess around with Photoshop beforehand.
To create your personal slideshow screensaver: Right-click an empty spot on your desktop, and then hit 'Properties.' Select the 'screen saver' tab. In the screen saver dropdown box, select 'my pictures slideshow.'
Now click the settings button. From here you can control the speed the pictures will be changed at, and set the directory they will be drawn from. By default it's set to the 'my pictures' folder.
Now your screen saver will be a random set of pictures taken from your selected folder.
54. Modify autoplay for different types of CD
Windows XP includes the ability to perform different actions depending on the type of CD you insert into the drive. For example, you could set your system to always respond to CDs containing MP3 files by opening Windows Media Player.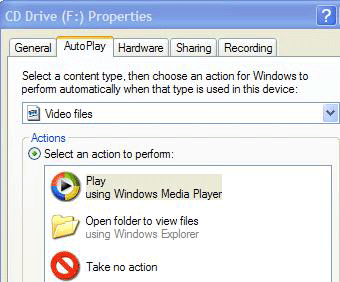 To edit the Autoplay properties: Open 'my computer'. Right click on the drive you wish to set and select 'properties.' Choose the autoplay tab. Use the dropdown box to see the various recognized types of CD and choose appropriate actions for them.