3. Clean out the prefetch folder
Windows XP uses a system called 'prefetch' to organize and preload some of the data necessary for commonly used applications and files. A folder called prefetch is used to store the information the operating system needs to carry out this operation. After several months of use, the prefetch folder may become quite overloaded with older references to software and files that may no longer be in use.
It's a good idea to manually empty the older files out of the prefetch folder every few months or so. To do this: Navigate to 'c:\windows\prefetch' and delete all .PF files that are older than a week or two.
4. Set priority for individual programs
If you regularly multi-task while you are working at your computer, but some of the applications you use require more horsepower than others to work effectively (for example using Adobe Photoshop along with Word or other less demanding programs), you may want to consider setting a custom priority for the high-demand applications.
Priority is how the operating system determines how to share the processor time among applications. Most applications default to the 'normal' priority, so by setting your high demand application higher, you can increase its performance when multitasking.
To do this: Load the program you wish to change the priority for and press CTRL+ALT+DEL to bring up the Task Manager. Select the applications tab and highlight your program. Right click the program and select 'go to process.' Now right click on the highlighted process and choose 'set priority.'
The higher you set the priority above normal, the more CPU time the program will steal from other applications when you are multitasking.
5. Cleaning up unwanted startup programs
Many freeware and commercial software programs have a habit of setting themselves up to run automatically upon Windows startup. This can contribute to the gradual decline in startup speed that most Windows XP systems (and windows PCs in general) experience. Also, having programs that you only use selectively, or not at all, load automatically is a waste of system resources that could be better used for other things.
To top it off, many internet nasties such as spyware programs, viruses and Trojan horses will install themselves into one of the automatic start locations on your system in order to make sure that they are run on startup. So the point is, take a look at what is currently running every time you load your PC, and disable what you don't need or can't identify.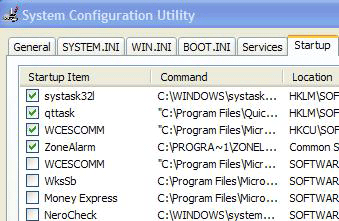 To do this: The first place you should go is 'start\programs\startup' which is a directory Windows XP uses to launch application shortcuts on boot-up.
If you remove the shortcuts from this directory, the applications will not load on startup. This directory can also be a repository for various badness such as spyware and virus software, so if there are files here which are not shortcuts and you don't recognize them, you may wish to consider removing them anyways, as Windows will not place critical files in this directory.
The next location for removing unnecessary startup files is the handy MSCONFIG utility that has been resurrected from the graveyard of Windows 9x especially for XP.
Go to 'start\run' and type 'msconfig' to access the utility.
The 'startup' tab in MSCONFIG provides access to several other applications that are started at boot up and are running in the background. By examining their Filenames and directories, you should be able to get a feeling for what is necessary and what is not. Be aware than several viruses and worms have a habit of disguising themselves with authoritative sounding Windows system file names, such as the Win32.spybot.worm present in the above screenshot as MSCONFIG32.EXE. Leave these for now if you are not sure.
The other method for removing these programs is through the programs themselves, as many applications, for example MSN messenger, contain the option to remove the software from startup.