78. Set power options
You can easily edit Windows XP's power options to affect such things as how long it takes the monitor to turn off (if ever) when the machine is idle, and whether your Hard drives will spin down after a certain period of idle time to save energy and wear and tear.
To edit XP's power options:
Go to 'start\control panel\power options.'
From here you can choose one of several set power schemes, or change the settings on the three main power saving options, turn off monitor, turn off hard disks and system standby.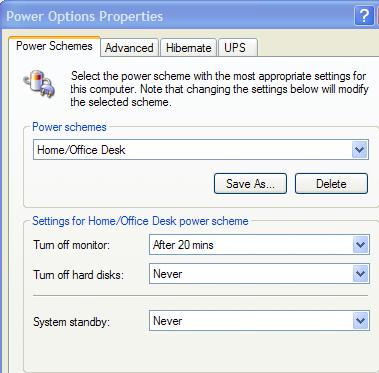 79. Creating shortcuts
Shortcuts are small files that simply point to the location of another file or folder. They can be created easily in one of two ways.
Either right click on the file or folder itself and select 'create shortcut' from the resulting menu, then cut and paste the shortcut to where you want it, or right click an empty space in the area you want the new shortcut to be, select 'new' then 'shortcut' from the menu.
Then once the wizard opens, browse to the file or folder you wish the shortcut to point to.
80. Create passwords for all your user accounts!
Short and sweet, you MUST do this if you use the Internet, period. Even if you do not use the Internet, but other people have access to your system, you should still set secure passwords on every user account.
By default Windows XP does not assign passwords to the accounts you create during the install process, and these accounts all have full administrative privileges to the system. All an outside intruder needs is your username in order to have your system resources laid out in front of them. Create passwords for all user accounts:
Go to 'start\control panel\user accounts
Select each user account (besides guest, which is disabled by default) and assign a password to it. Best practice is to use a combination of letters and numbers to foil password cracking software.