65. Logging in as the 'Administrator' account
Every Windows XP installation comes with an administrator account built in, the password for which you set during the install process. Of course, the administrator account does not actually show up on the welcome screen. If you have disabled the welcome screen you can do it easily enough, but what if you happen to like that friendly screen?
Never fear, simply press CTRL+ALT+DEL twice and you will be transported to a login prompt that defaults to the administrator user account.
66. Update your drivers
Not so much a tip as essential advice. Much like frequently updating windows, this is a good practice for improved system health, and especially performance. If your system contains even somewhat recent hardware, it's likely that the manufacturers are still working on upgrading and stabilizing the software drivers for some components of your computer.
These new driver sets are generally made available for download at the manufacturer's website and will install over your older drivers. It is recommended that you take an inventory of the parts and brands in your system (if it is a store-assembled PC) or the manufacturer part number of your system itself (from big box retailers like Dell and Compaq) and visit the manufacturer's websites to attain the newest drivers. You may be surprised at the results.
67. Check your PC for spyware and other nasties
Your PC could be hosting spyware or adware programs without your knowledge. These small applications, installed knowingly or unknowingly by the user (adware licenses are often buried inside the End User License Agreements of software packages like Kazaa Media Desktop) can pass information on your web surfing habits, among other things, to advertising companies, and enable them to target advertising based on your habits.
These programs can also consume valuable system resources. While not specific to Windows XP, removing spyware and adware from your system is an excellent step towards better PC health. To check for these programs:
Download either LavaSoft's Ad-Aware or PepiMK's Spybot Search and Destroy or both. Run these programs and update them via the built in interface, then check your system for spyware and adware programs. For more information on this topic, see PCstats' Guide on spyware and how to deal with it here.
68. Show the quicklaunch bar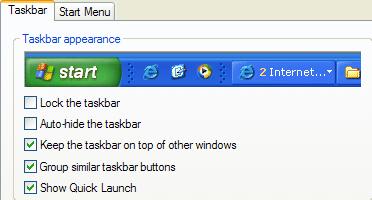 The quicklaunch bar is a convenient toolbar containing shortcuts to commonly used programs. If you used any flavour of Windows from 98 to 2000, you probably became used to it sitting in the bottom left of the taskbar next to the start button. You also probably missed it when you started using XP, especially since it also means you are missing that essential 'minimize all windows and take me back to the desktop' button.
Don't fret though, the quicklaunch bar is still here, just not by default. Possibly to make room for the larger start button graphic in XP, Microsoft decided to have the quicklaunch bar present only as an option. Let's look at how to get it back.
To re-enable the quicklaunch bar: Right click on the time display in the lower right corner of the taskbar and select 'properties.' Now look for the option entitled 'show quick launch.' Enable it. Now that your quick launch bar is back, you can drag and drop shortcuts onto it from the desktop to customize it.