69. Locking the desktop
If you are leaving your computer for a while and do not wish to turn it off, but want to assure that no-one else can use the computer while you are away, locking the desktop is the best option.
By pressing WINDOWSKEY+L, you password protect your system just as if you had logged out or restarted the computer. The advantage is that any programs or processes that were running when you locked the desktop will stay open and running in the background, ready for you to resume work or play.
70. Using the Windows Scientific calculator feature
This one's been in Windows for a while, but since few people seem to know about it, it's worth mentioning. The standard Windows calculator can be turned into a full-functioned scientific calculator with just a simple trip to the options menu.
To enable the scientific calculator, open the calculator application, select the 'view' menu and choose 'scientific.' Presto.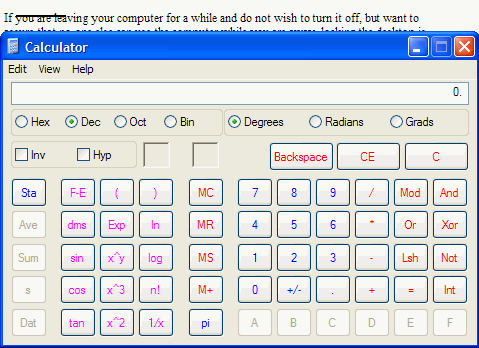 As I'm out of my depth talking about the functions of scientific calcs, I'll leave the rest for you engineering students and mad scientists to discover.
71. Accessibility tools
Windows XP comes with a suite of tools designed to make the Windows environment more accessible for differently-abled users. These tools include a magnification utility and an on-screen keyboard, among other things, and are accessed via a wizard. Any user may find these tools occasionally useful, or at least interesting to play with, so give them a try. Find them at:
'start\all programs\accessories\accessibility\accessibility wizard.'
This will run the wizard, which will help you configure your system with the accessibility tools. Alternatively, you can run the individual tools from the 'accessibility' menu under 'programs\accessories.'