20. WinXP Powertoys
Microsoft has made several extra tools and utilities for Windows XP available on their website. These 'powertoys' offer extra functionality in certain areas of the Windows XP operating system.
The downloads include an enhanced calculator, and image resizer, and Microsoft's popular TweakUI program which allows you to change many of the variables of the Windows XP user interface. To see a full list, go here.
21. Backing up or transferring your email manually with outlook express
If you would like to ensure that you always have a backup of your Outlook Express mailboxes available, there is an easy way to do it manually. Note that you must have enabled viewing of hidden folders (in Windows Exporer/tools/Folder Options/View Tab/ enable "show hidden files and folders") in order to successfully view your mailboxes.
Navigate to c:\documents and settings\(your username)\ Local Settings\Application Data\Identities\(some very long and complicated string of numbers and letters)\Microsoft\Outlook Express
You will see a .DBX file for each of your mailboxes. Transferring these to another hard drive or burning them onto a CD at regular intervals will ensure that you can always restore your email records should you be forced to reinstall Windows.
To restore your mailboxes in the event of reinstalling Windows, simply copy them back into the same folder once the install is complete, overwriting the existing files. You will now have access to all your email records.
22. Running legacy software in Windows XP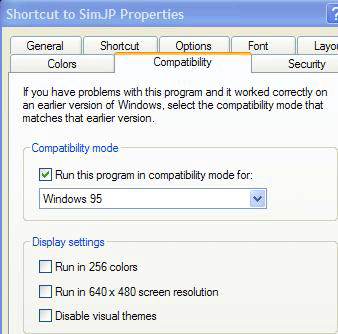 Windows 2000 was a step forward for the Windows operating system in many ways, with its enhanced security and stability, but one flaw it possessed that frustrated (and continues to frustrate) many users was its inability to cope well with software written for older operating systems such as DOS and early Windows 95 applications. Apparently Microsoft learned from their mistakes in this area, for Windows XP includes several options designed to make your older software more compatible with the XP version of the Windows NT kernel.
Essentially, XP can be set to mimic various OS environments for that program only. If you have a program that simply refuses to work on XP, give these methods a try:
After installing the application, right click on the executable file or the shortcut to it, and select 'properties.'
Choose the 'compatibility' tab. The first section in this window 'compatibility mode,' covers mimicking various operating system environments to try and make your application more comfortable. If you know the app is designed for one of the operating systems contained in the drop-down box, try it out.
You can also set the program to run in 256 colours and/or 640x480 resolution, which many older software titles require.