8. Disable the Disk performance counter(s)
Windows XP contains a built in performance monitor that is constantly examining various areas of your system. This information can be called up using the performance monitor application found in control panel\administrative tools. Of course, most of us have little interest in this sort of performance statistics monitoring, that being more the territory of systems administrators than individual users.
The thing is, XP is still monitoring away, and some of its observation tools can use a considerable amount of resources. The disk monitoring is an example of this, and it's a good idea to turn the disk monitors off if you are not planning to use the performance monitor application.
To do this: Go to the command prompt ('start\run' then type 'cmd') and type 'diskperf -N'
9. Turn Off Windows Indexing service
The 'Indexing' feature is used to increase the speed of file searches within XP by creating and updating an index of all files on your system. Unfortunately, it also reduces the performance of your system, since it is constantly working in the background.
To turn it off: Go to Control Panel\Add/Remove Programs\Windows Components. Then uncheck 'Indexing Service.'
10. Increasing desktop Graphics Performance
If you are running Windows XP on an older computer, you may find turning of some of the graphical frills that XP uses to render the desktop will improve the 'snappiness' of your computing experience. To see a list of these effects so that you can experiment with the effectiveness of turning them off:
Right click on 'my computer' and hit 'properties.' Choose the 'advanced' tab. In the performance section, click the 'settings' button.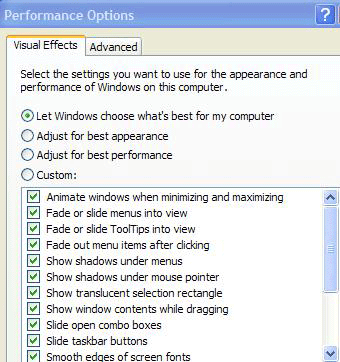 A list of the various graphical effects that can be turned off or on is shown. To turn them all off, you can choose the 'adjust for best performance' button. Play around with these settings and see what you think.
11. Check and set the DMA mode on your drives
Windows XP occasionally sets IDE hard drives and CD drives to the PIO transfer mode by default, which is slower than the standard DMA (Direct Memory Access) mode used by modern drives. It's worthwhile to check your drive settings to make sure that they are not being slowed down in this manner. To check your drives:
Right click 'my computer' and select properties, then the 'hardware tab' then the 'device manager' button.
Expand 'IDE ATA\ATAPI controllers' highlight 'primary IDE channel' and hit the 'properties' button.
Go to the 'advanced settings' tab, and ensure that the transfer mode is set to 'DMA if available.'
Repeat the above steps for the secondary IDE channel.
12. Smooth out your mouse movement
Assuming you are using a PS/2 mouse, this tip can help give you smoother and more precise mouse control. Good for gaming and for your nerves in general. Studies have shown that smooth mousing reduces fatigue and stress and generally promotes a healthy cheerful glow (your experience may vary).
On to the tip: Right click on 'my computer' and select properties. Choose the 'hardware' tab, then the 'device manager' button. From the device manager window, find your PS/2 mouse and select 'properties.' In the 'advanced settings' tab, set the 'sample rate' to 200.