32. Install the Backup Utility in XP Home
Windows XP Home does not come with the Windows backup utility installed like other versions of Windows XP. However, this useful utility does exist on the XP Home CD, and will work just fine once installed. See PCstats Guide to backing up data in Windows XP for more details on using Windows backup once it is installed.
To install Windows backup on XP Home place your XP Home CD in your drive and navigate to '(CD drive letter):\valueadd\msft\ntbackup\'. Then, double click the 'NTBACKUP.MSI' file to start the installation process.
33. Schedule Automatic Data Backups
You can schedule automatic backups of your Windows data using the built-in backup software and the task scheduler. For more information on the backup utility in Windows XP and how it works, see PCstats guide on the subject.
To schedule backups in Windows XP open the backup program ('start\all programs\accessories\system tools\backup'). Go to the 'schedule jobs' tab. Choose a month and day when you want the backup job to run for the first time and click 'add job.'
This will open up the backup wizard which will prompt you for the backup type, location and backup update details. Enter this information (again see PCstats guide if you need help with the backup program and how it works) and continue until you reach the 'when to back up' window.
Click the 'set schedule' button.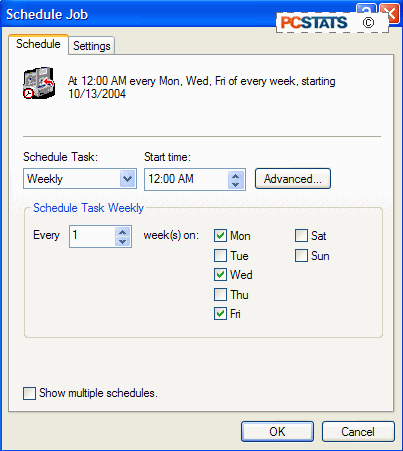 From here, use the 'schedule task' dropdown box to set when the backup should occur and the 'start time' box to set the specific time. Click 'ok,' then 'next' and enter your account information (in case another user is logged in when the job runs). Your scheduled backup has been created.
To edit previously scheduled backups, open the scheduled tasks application at 'start\all programs\accessories\system tools\scheduled tasks.'

From here you can double click the job you created and edit or remove it.