37. Disabling Startup Password
If you are the only user of your system and you are tired of entering the username and password each time you login, you can disable this requirement.
To do this go to 'start\run' and type 'control userpasswords2'.
Uncheck the 'user must enter a user name and password to use this computer' checkbox.
Note that this is not recommended for systems that connect to the Internet via broadband connections due to security concerns.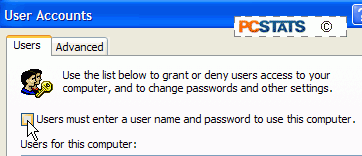 38. Remove Orphaned Software Applications from Add/Remove Programs
Sometimes, even after you have uninstalled a program, it remains as an option in the 'add or remove programs' control panel application. This can happen due to poor coding or an error in the un-installation process. To clean these orphaned entries up, a registry edit is called for.
To delete orphaned program entries open Regedit and navigate to:
'HKEY_LOCAL_MACHINE\Software\Microsoft\Windows\CurrentVersion\Uninstall'
Look for the offending program entries and delete them. Note that some programs may be listed with a string of letters and numbers. Open the value inside these keys to see the actual name of the program.
39. Troubleshooting Shutdown Issues
Does your PC not shut down automatically, instead stopping at the 'it is now ok to shut down your computer' screen? Here's a couple of quick resolution to the two most common causes of this problem in Windows XP:
Open Device manager (right click on 'my computer' and select 'manage' then 'device manager.'). Go to the 'view' menu and select 'show hidden devices.' Look for the 'APM/NT Legacy Node' entry. If it is disabled, enable it and try to shutdown your PC again.
If this did not help, go to'start\control panel\power options' If you have an 'APM' tab, make sure the option 'enable advanced power management support' is checked.
If neither of these steps are applicable, you may wish to try updating your motherboard's BIOS (Basic Input/Output System). See PCstats Guide to the BIOS for the quick run through on how to do that.