15. Get a Better ALT+TAB Application Switcher
As part of its 'power toys' line of free applications for Windows XP, Microsoft offers an enhanced ALT+TAB application switching utility.
Normally you just see the icons of your active programs when you hit ALT+TAB to switch between them, but this enhanced version allows you to see a preview of each Window.
Very handy little tool if you tend to have a lot of open folders you regularly switch between.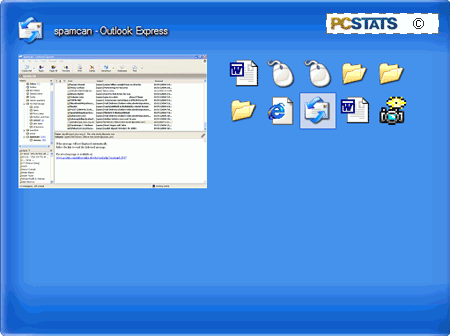 16. Add a Command Prompt Option to the Windows Explorer Right Click Menu
Another of the Windows power toys, this file adds an 'open command prompt here' option to the right click context menu in Windows Explorer, allowing you to open a command prompt window directly into the folder you are currently browsing. Get it here .
17. Stop 'focus stealing' by background applications and pop-ups
If you get annoyed when pop-up windows or other applications you have running replace the window you are currently working on, here's a registry edit that can help you deal with this behaviour.
Start Regedit and navigate to 'HKEY_CURRENT_USER\Control Panel\Desktop.'
Double click the 'ForegroundLockTimeout' key. Change the notation to decimal. This key controls the amount of time that Windows will wait for user input in the currently active window before shifting focus to whatever other window is demanding attention. The default is 200000 milliseconds decimal, or 200 seconds. Change this to a greater millisecond value if you want to prevent Windows XP from stealing the focus while you are occupied.