52. Prevent Browser Hijackers and Spyware in SP2 Internet Explorer
The upgrades made to Internet Explorer in the new Service Pack 2 for Windows XP offer considerably more security for the Internet's most common browser software.
The first and most obvious improvement is contained in IE's new pop-up blocking software. This feature, which suppresses any secondary windows that a website may try to open in your browser, has the handy secondary ability of suppressing most other forms of pop-ups also.
This includes those irritating prompts that may pop-up when you are browsing, prompting you to install this or that piece of spyware-ridden software.
Obviously, if you don't see them, you won't accidentally click 'ok' on them, hence IE becomes instantly better secured.

The second security addition steals a page from the effective 'HijackThis' anti-browser hijacking program. The new version of IE includes a feature that allows you to view and control elements and plugins that have been added to the browser since it was installed. Since many forms of spyware and all browser hijackers make changes to IE's settings in order to do their dirty work, they will be listed in 'tools\manage add-ons.'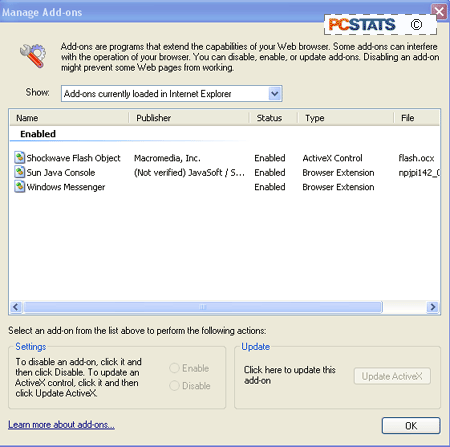 From here, you can view and disable any suspicious contents.
These two features alone make the new Service Pack for XP a worthy download. For more information on SP2, see PCstats review of the service pack right here. For more info on Browser Hijackers and Spyware, take a moment to read through PCstats Guides on those topics.