Disk and Storage Management Tips
64. Stupid Disk Tricks for XP Part 1: Dynamic Disks
Windows XP, like Windows 2000 before it, contains support for dynamic disks. Dynamic disk volumes use a database which records information about the partitions on each drive, allowing for several interesting new capabilities which we will cover in the next few tips. Dynamic disks can be expanded within windows, can be extended across physical drives (spanning), form RAID arrays, and can be transported from computer to computer. They do require Windows 2000, 2003 or XP to function though.
Any partition can be converted to a dynamic disk without data loss, but you cannot reverse the process. Converting your drives to dynamic disks allows you access to the next few tips in this article.
To convert your existing drives to 'dynamic disks' go to computer management (right click 'my computer' and select 'manage') then open 'disk management.'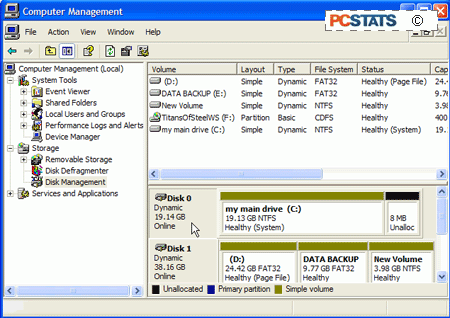 The lower pane on the right contains information about your drives and partitions. Under the heading for each disk (disk 0, disk 1, etc.) is either 'basic disk' or 'dynamic disk' depending on their current type.
To convert the disks from basic to dynamic, right click the grey box on the left that contains the disk names (disk 1, disk 2, etc.) and select 'convert to dynamic disk.'

From the next Window you can check both blank drives and click 'ok' to convert them.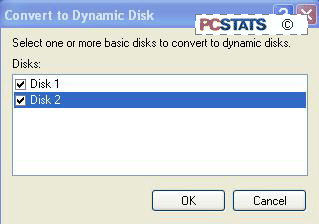 Note that to perform any of the advanced disk management features, your partitions will also need to use the NTFS file system. See PCstats first 101 Tech Tips article right here for details on converting FAT32 partitions to NTFS.