94. Benchmark Your Wireless Connection
If you really want to get the most out of your wireless connection, you can benchmark it with the handy (and free) Qcheck program available here. Using this software, you can analyze the performance of your AP and wireless adaptors in different locations throughout your home or office.
95. Fixing the 'Guest Only' Network Access Problem
A fairly common XP networking issue is the 'guest access only' problem. The major symptom is only having the (computername)/Guest account available to you when you attempt to connect to other systems on your network. The cause is generally a misconfigured local security policy.
To fix this annoying networking issue, you will need to go to 'start\control panel\performance and maintenance\administrative tools' and open 'local security policies.'
Expand 'local policies' followed by 'security options,' highlight 'network access: sharing and security model for local accounts and set it to 'classic - local users log in as themselves.'
96. Hiding Your Computer From Other Systems in the Same Network
If you are on a network you do not really trust, and would like to hide your computer from curious eyes while still being able to share files, one simple solution is to conceal your system from the 'network neighborhood' type applications.
Normally in Windows XP, the 'workgroup computers' command executed from the 'my network places' screen will bring up a list of any systems in the same network and workgroup as your system, and allow you to browse any shared resources on these systems. If you would like to stop your system from showing up in this location, bring up the command prompt ('start\run' and type 'cmd') and type 'net config server /hidden:yes.'
97. Share Multiple Folders Quickly in Windows XP
Normally, sharing folders over a network involves right clicking on each folder and setting individual share options for that folder. If you need to share a lot of information, this can get tiresome fast. Fortunately there is a shared files wizard included with XP that can increase the speed of this operation greatly.
To use this wizard, go to 'start\run' and type 'shrpubw.exe.'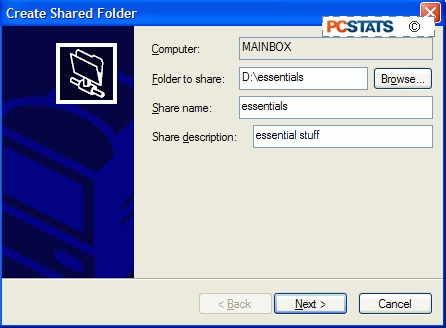 From this window, you can type in or browse to the location of the folder you wish to share and enter the share name. You will then be prompted to set permissions.