98. Change Web Page Font Size Automatically
Here's a quick Internet Explorer tip which you might find worthwhile if you sometimes have trouble reading website text. By holding down the CTRL key and moving your mouse's scroll wheel in IE, you can increase or decrease the font size of the text on most web pages.
99. Open Web Pages in a New Window Quickly
Another quick and handy Internet Explorer tip. To open links in a new window, simply hold down the SHIFT key as you click on them.
100. Don't Have Anti-Virus Software? Check Your PC for Viruses Online
If you don't currently have anti-virus software installed, and your computer is behaving oddly, you can check for virus infections online at a number of different anti-virus manufacturer's websites. Most only offer scans, not full virus removal, but some do both.
These are not a substitute for a full Anti-virus software package, but they are much, much better than nothing. Remember to download an anti-spyware utility like Ad-Aware and check for spyware as well.
Some free online virus scan utilities:
Panda Activescan
Bit Defender
RAV antivirus
Symantec security scan (scan only)
Trend Micro Housecall (scan only)
Computer associates
101. Save Web Pages for Offline Viewing
There are a couple of ways to save your favourite web pages for viewing when you are not connected to the Internet. The most direct method is to save the current web page using the 'file\save as' option.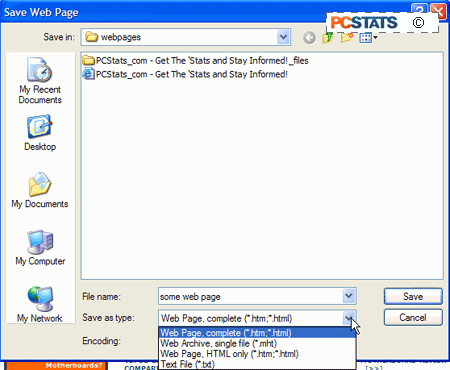 This will save the current page in one of four formats, accessed via the 'save as type' dropdown box in the save dialog: 'Web page, complete' will save all of the contents of the current web page, including graphics, animations, etc. It will create a folder at the save location which holds these extras in addition to the file for the website itself. 'Web archive, single file' saves the complete page as a single compressed file which can be opened by IE directly.
The last two modes, html only and text only store just the basic contents of the page in either html or text only format.
The better method for accessing web pages offline, especially if you regularly access them, is to add them to your favourites list and check the 'make this page available offline' option. Internet Explorer will then download and store the page on your system at regular intervals when connected. You can use the 'customize' button to specify whether links on the page will also be downloaded and stored for offline access, and how many.