12. Make Your Mouse More Responsive
We posted some registry tips to increase mouse responsiveness in PCstats previous tips guides, but the easiest way to increase the sensitivity of the mouse is through the control panel.
Go to 'start\control panel\printers and other hardware\mouse' and go to the 'pointer options' tab.
Under the 'motion' heading, the 'select a pointer speed' bar will increase the overall speed and responsiveness of the mouse.
The 'enhance pointer precision' button controls whether the mouse pointer has an acceleration curve to its movements. Try the settings to find one that you like.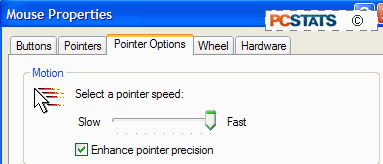 13. Increase PS/2 Mouse Performance
If you are using a PS/2 mouse, you have an extra option which you can enable to get better resolution and performance from your pointer. First go to 'start\control panel\printers and other hardware\mouse.' Select the 'hardware' tab, highlight your mouse or pointing device, and click 'properties.' Choose the 'advanced settings' tab.
Change the 'sample rate' dropdown box to the maximum value of 200.
14. Relocate the 'My Documents' Folder
If you wish to point the data stored in your 'my documents' folder to a different disk location, you can do this very easily in explorer. By default, this data is stored in 'c:\documents and settings\(username)\my documents', and a good many virus applications have made use of this information.
To change the location of My Documents folder right click the 'my documents' icon on the desktop or the start menu, and select 'properties.'
In the 'target' tab, enter the path to the folder location you wish to use, or press the 'find target' button to browse to the folder. You will be asked if you wish to move all existing data to the new location.