The slots, sockets, connectors and capacitors that were plugged into the board on the manual assembly line now need to be soldered to the motherboard. Manual soldering would be too time consuming, so Gigabyte makes use of a special soldering process called wave soldering.
This imposing piece of mechanics is the final step on the conveyor belt that runs through the manual assembly lines. It runs the bottom of each motherboard through a 'wave' of liquid solder (induced by flowing the molten solder over a raised ledge) at a precise height, so that the metal leads of the plugged-in components are coated with solder. Each board passes through this wave for 2-4 seconds, after which it is allowed to cool naturally so the solder can solidify around the contacts.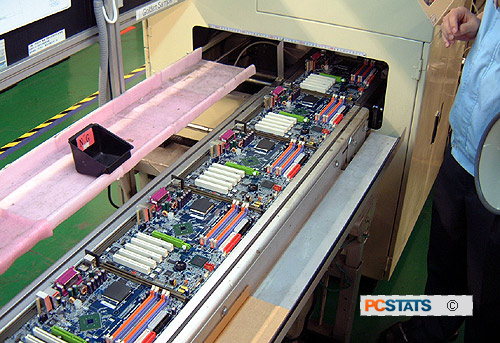 About to go into the solder wave machine.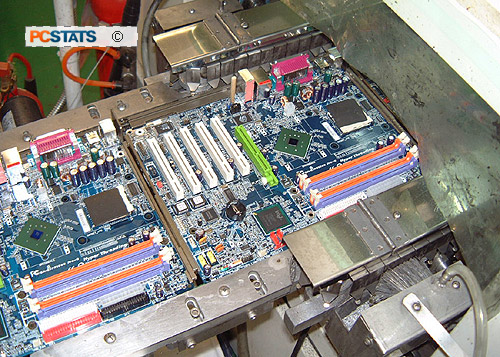 Note the lead weight on the socket. This stops it floating up in the solder
Larger sockets sometimes have a tendency to float up a little, so small lead weights are used to hold these sockets down.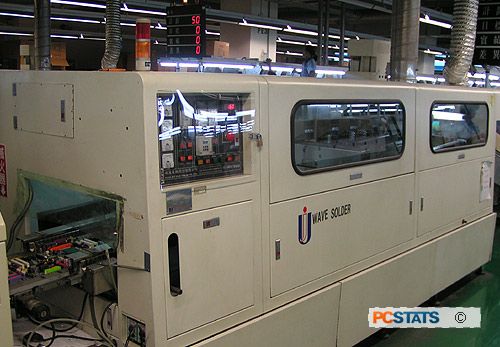 The wave solder reflow machine