Gigabyte out sources the PCBs (Printed Circuit Boards) it uses for its motherboards to a PCB manufacturer. These arrive already etched with the necessary circuit traces, pre-coloured and pre-drilled with the holes that are needed to insert components like the CPU socket and PCI slots. Other than this though, they are completely bare, containing no components or solder.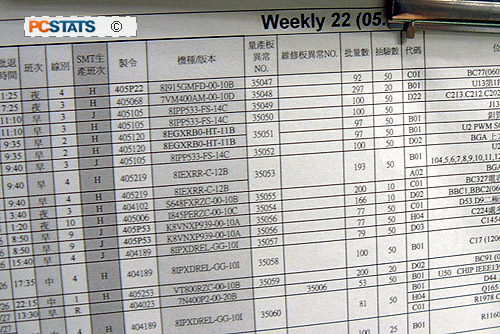 Weekly production sheet identifying the motherboard models
These bare PCB boards are stored on racks and loaded into the automated feeder for the DEK Infinity solder paste printer to start their journey towards becoming completed motherboards.
Solder Paste Screen Printing
Before being sent to the SMT (Surface Mount Technology) machines that will mount chips and resistors onto the PCB, each motherboard must be prepared by solder paste printing, a technique which involves spreading solder paste over a nickel sheet, laser cut to correspond to the motherboard being assembled. This nickel sheet 'screen' is then moved into the printer and the motherboard positioned precisely under it. The paste is distributed over the screen by the printer so it is squeezed through the holes in the nickel sheet to adhere to the motherboard underneath in precise areas.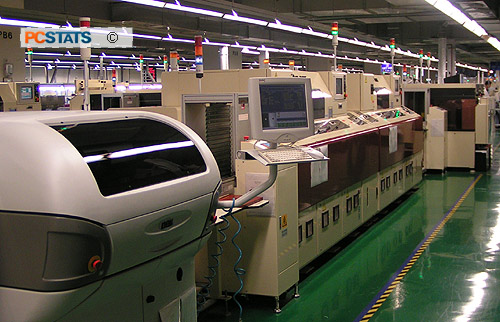 The DEK Infinity solder paste screen printer (left)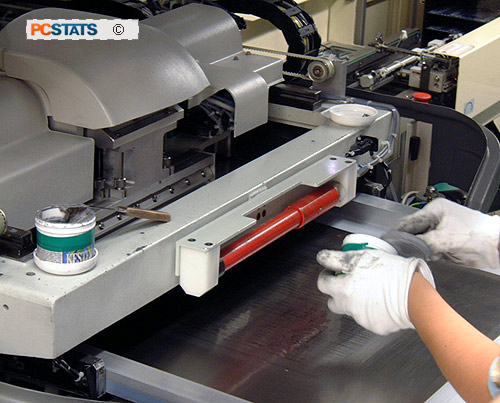 Mixing and applying the solder paste to the nickel screen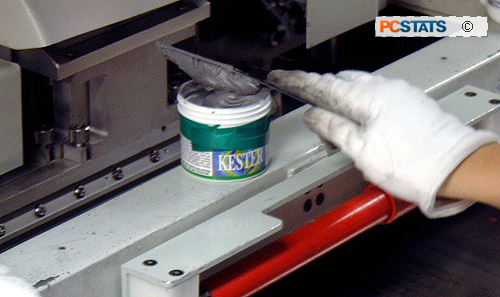 The solder paste: particles of solder suspended in flux
After having the solder paste applied, the bare PCB boards are stacked into an automated vertical storage rack called a PCB Buffer Loader, until ready to be passed through to the SMT assembly machine.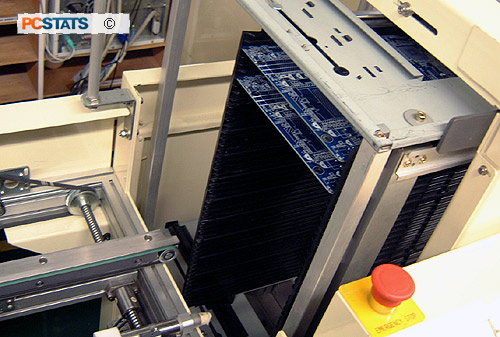 Solder printed motherboards awaiting the SMT process