This test is designed to establish that each motherboard works correctly under 'normal' operating conditions. Each testing station has a special rack that is lowered pneumatically, automatically plugging in the test PCI and videocards, and port 80 card while the technician attaches IDE cables, memory and processor and heatsink manually. Interestingly, the test CPU is attached to the bottom of the heatsink with adhesive, and the entire assembly is just placed into the socket in one quick movement.
A second pneumatic connector attaches parallel, serial, PS/2 and USB connectors as well as video sound and networking jacks to the rear I/O panel of the motherboard automatically in one go. The tester adds hard drive, CD and floppy cables attached to components hard mounted to each test station.

Gigabyte motherboard test center
Hooking up each motherboard for testing takes only about a minute. Once set up, the motherboard is powered on and booted into a DOS test program and the functionality of every component and peripheral is confirmed.
Every motherboard is tested for functionality before moving off to the final stage of testing.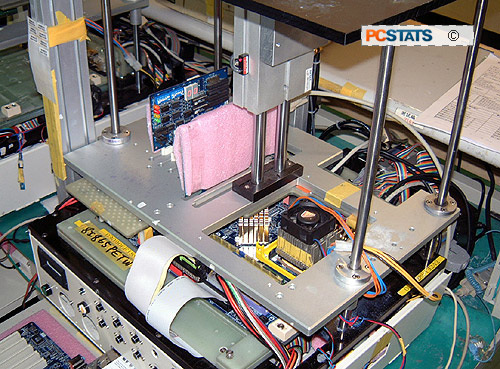 Pneumatic test rack clamps down onto completed motherboard to reduce worker fatigue from installing videocards and PCI Port-80 test cards all day long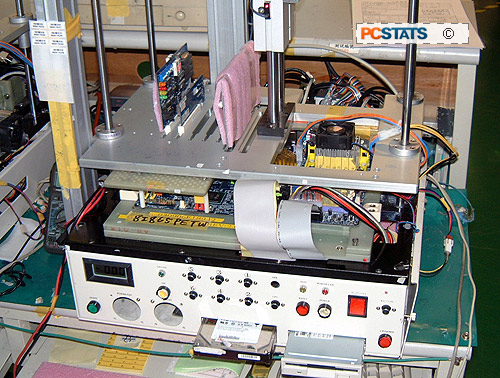 Note the drives mounted into the test rack.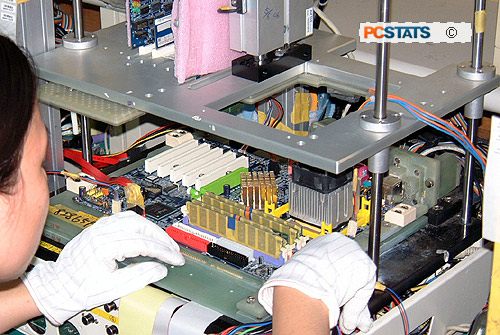 A second pneumatic arm holds connectors for the rear I/O ports, right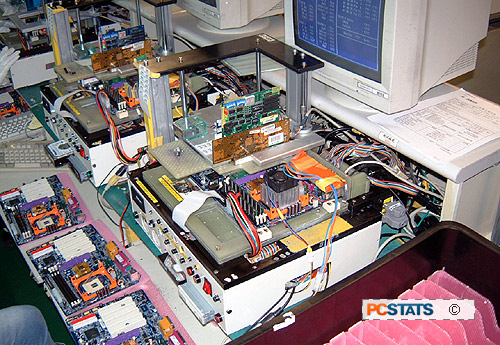 The entire test bed
Each worker handles two test stations at once, while the second is being set up the first is left to run a series of automated tests.