How Motherboards Are Made: A Gigabyte Factory Tour
---
Without a doubt, motherboards are the most complex and essential part of the modern PC. Not only do they hold the chipsets that pass data from peripherals, drives and memory to the processor, they also provide slots and ports for all your other system components and the circuits through which all data must pass.
Perhaps surprisingly then, motherboards get very little respect in the computing press as compared to other components. They are perpetually the team player and not the star of the show, and are generally priced as such.
With this in mind, it's surprising to learn the amount of work and machinery involved in manufacturing a single motherboard. We'd vaguely imagined some sort of stamping process where all components are slapped onto the bare board in one step and soldered, before being boxed in a big room full of bored workers.
Sure there would have to be some testing, but how intense could it be?
As PCSTATS recent trip to Gigabyte's Nan-Ping factory in Taiwan showed us, there's a lot more to it. In fact, producing and testing a single motherboard involves a mind-boggling host of automated machines, people and processes; so we'd like to detail the whole assembly line we toured while covering Computex, to give you a feel for how things are really made.

Gigabyte's Nan-Ping factory is a modern building in rural Taiwan. Built in 1986, this 8-story factory encompasses 45,000 square meters of work space, and includes 18 SMT lines, 10 DIP lines, and 9 Testing lines.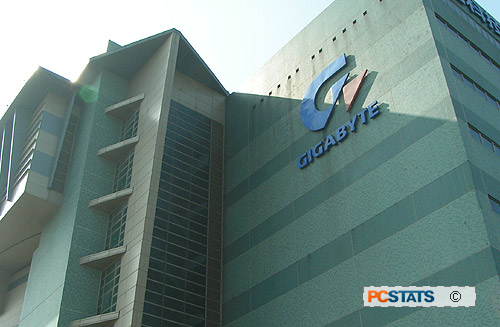 The outside of Gigabyte's towering Nan-Ping factory

Nan-Ping's capacity is 800,000 motherboards and 400,000 videocards a month. Gigabyte has several other factories in Taiwan and mainland China that each manufacture motherboards, videocards, and other products.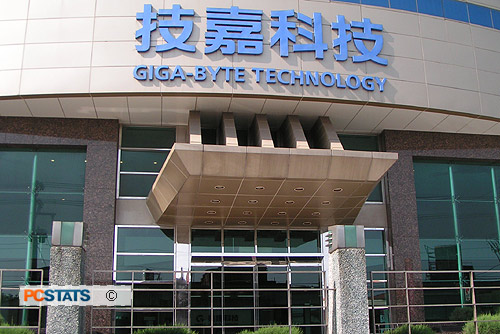 Nice foyer!
Follow along as PCSTATS walks through the whole motherboard manufacturing process.